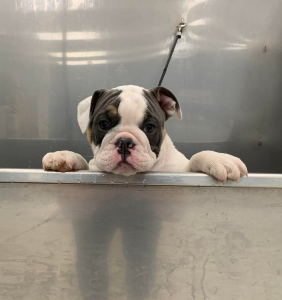 Wash fees are charged by the size, breed and/or coat type of your dog, to make the prices appropriate to the amount of water, shampoo and tub time needed by each customer. Because we charge only by the type/weight of a dog, there is no time limit. Please take your time and have fun!!!
Toy dogs……$10
Small dogs up to 30lbs……$14
Medium Dogs 31 to 50lbs……$16
Large Dogs 51 to 80lbs……$18
Extra Large Dogs 80lbs+……$20
GIANTS/Thick Coats 80lbs+…..$25
Additional Charges:
Use of Professional Clippers……$15
Nail Trimming by Dirty Paw Staff……$10…..with grinding $15
Skunk & Flea/Tick Remover……$10
**PLEASE NOTE: Long hair, thick undercoats or coats that are severely matted may move your dog into a higher price range than the weight guidelines listed above.
Don't feel like bathing your dog yourself? We'll do it for you!
You'll need to call and make an appointment for this service.
Prices START at $25.00.
PLEASE NOTE: We do not accept credit/debit cards. CASH, CHECKS or VENMO only.