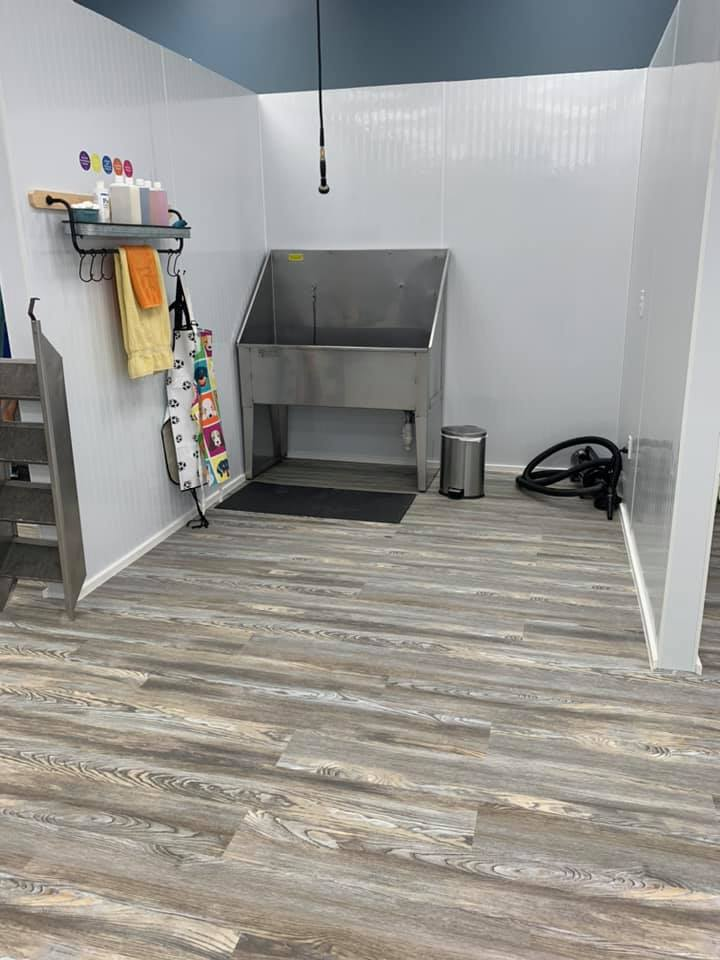 No more back strain and knee pain from washing your dog in your bath tub! We offer 5 professional quality, stainless steel, waist high grooming tubs that will safely hold any size dog. With the help of 2 animal restraints, you're able to easily wash both sides of your dog, while keeping him/her securely in place. Inside each tub is a raised grate that keeps paws out of the dirty, hairy, soapy water during bathing and drying.
Warm water retractable sprayers mean no more freezing cold garden hose baths!
Your choice of five Bark 2 Basics Premium Shampoos and Conditioners, specially formulated for professional groomers. Non-toxic, environmentally friendly and cruelty free.
Each wash station is equipped with rubber scrubbing brushes, bath towels, professional dryers, brushes, combs, aprons, ear cleaner.… everything you'll need to wash and brush your dog. We have two grooming tables available for your use as needed. ALL of these amenities are included in your wash price. Nail clippers, scissors, shedding and de-matting tools are also available. Our professional clippers can be rented for a $15.00 fee.
A variety of pet colognes are available to you after your wash … FREE OF CHARGE!
No appointment necessary for self-service bathing/grooming! Our facilities are available on a first come, first served walk-in basis. Stop in whenever it's convenient for you. Call ahead if you feel this atmosphere is not right for your dog and we'll make arrangements for you to come in before or after regular business hours. There is a 50% upcharge fee after-hours appointments. We want every dog and owner to be able to enjoy a nice, warm, stress free bath!
Don't feel like bathing your dog yourself? We'll do it for you! You'll need to call and make an appointment for this service. Prices START at $25.00.